What General Contractors Bring to the Table
A general contractor does for construction projects what a wedding planner does for weddings. Having one person, or one entity, bring all the disparate pieces of a home renovation project is essential to a successful end-product.
Whereas many contractors have a team of independent businesspeople, or contractors, on hand to perform tasks that require special licensing, they are not always employees of that construction firm. Contractors can choose whether they want to bring subcontractors on as regular employees or pay them as independent contractors.
Generally, it's more cost-effective for everyone (contractor, subcontractor, and client) to keep them separate. Some contractors have both; full-time employees as well as subcontractors whom they can bring in for individual projects.
"Why not be my own general contractor? Seems easy enough."
So, why should property owners hire a general contractor versus individual specialists to do various jobs? In other words, why doesn't the property owner act as their own contractor?
Sure, taking a sledgehammer to the floors, cabinets, and kitchen counter, unhooking some pipes, and popping in a shiny new dishwasher sounds like a breeze. But imagine if the new plumbing started leaking, very slowly, into the flooring and subfloor. And months after you've completed the project, your floor is destroyed, and you have no idea which part of the dishwasher is at fault.
That means you are liable for thousands of dollars worth of damage, and you'll have to call in a professional anyway. Plumbers and other subcontractors have certain protections that cover you and them in the case that something like this happens.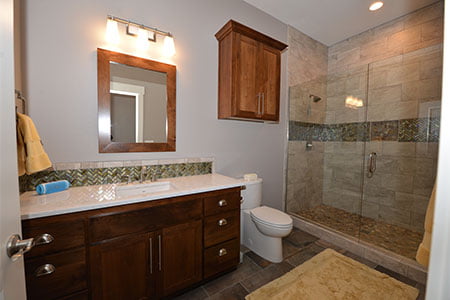 So, in light of all that could go wrong going it alone (and something undoubtedly will), owners should at least start by asking themselves a few basic questions about:
Construction methods and industry standards
City zoning, building codes, and permitting
Safety standards
Budgeting
Material sourcing
Reliable subcontractors
Similar construction projects
Time management and delegation
Lien laws
Quality control regarding plumbing, masonry, demolition, design, etc.
If your knowledge in any of these areas is fuzzy, ask around for a reputable general contractor. You'll thank yourself later.
It's smarter, less stressful, and cheaper in the long term to hire a general contractor
Unless a home or business owner is a licensed general contractor themselves, it's unlikely they have enough expertise to manage a sizeable project without some severe setbacks. However, if the owner has experience or licensing in one trade, say, tiling, they can opt to perform some of the work themselves and cut costs that way.
General contractors help you relax during an otherwise chaotic experience. Their combination of experience, licensing, a network of subcontractors, and industry discounts make hiring one to manage your project a no-brainer.
Most non-professional people who have planned their wedding, or someone else's, have probably only ever done it once. Why? Because they'd be crazy to do it again after realizing how much work and stress is involved! Do yourself a favor and hire a pro who knows how to make it easy on themselves, as most importantly, you.
Find out how to prepare for the exciting initial consultation with your contractor.