Home Remodeling Contractor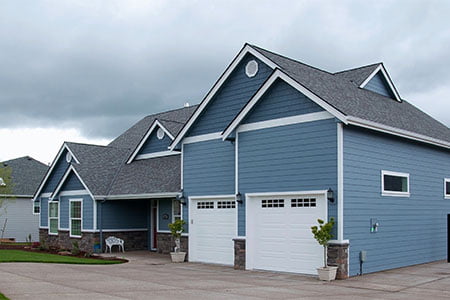 Star Builders, LLC is a remodeling contractor near Stayton that helps you organize, plan, and efficiently execute your remodeling dreams. We understand that the remodel brainstorming process can be overwhelming! So, where does the organizing begin?
First, write down your ideas! Do you want a remodel because things around your house are starting to wear out? Other remodeling inspiration often comes from social media. Like your friend's photos of their gorgeous new kitchen upgrade. Whatever your motivation is, Star Builders, LLC takes your ideas and implements them, transforming your home into a more inviting and useful space overall. Our team provides a value-added service that is unmatched by other contractors. With us, you get more than just a remodel, you get a trusting and enduring partnership.
---
Benefits of Working With Star Builders, LLC Contractors
We offer free consultations, so you get a chance to decide if we're the right fit for you and your project. Our production schedule helps us stay on track. Making sure clients are aware of timeframes regarding design phases, contract signing, allowances, referrals, ordering, demo dates, and other important events. Your project manager will let you decide how much you want to contribute as far as choosing plumbing and mechanical fixtures and other details. Each product is ordered ahead of time and arrives at our warehouse before we start work in your home. The project manager exhibits sensitivity to your needs as homeowners. When there are changes in scheduling, we communicate with our clients promptly. And we consider things like pet care, where to park work vehicles, and appropriate work sign locations so they don't become an issue later on.
---
Commercial Remodeling Services
In addition to our residential projects, we also offer commercial building and tenant improvement services. Commercial tenant improvements in the Stayton area are required to be permitted and built by an experienced contractor. Star Builders, LLC works with both local owners and investors for both new commercial construction as well as tenant improvements.
We Offer These Tenant Improvement Services:

Unit Updates
Bathroom Renovation
Full Remodels
Cabinetry, Countertops
Lighting and Fixtures
Flooring and Finish Work
Entries, Lobbies
Painting
Residential Remodeling Services
Star Builders, LLC specializes in long-term accessibility through Aging-in-Place Certified design and by building and remodeling senior living facilities. Star Builders, LLC, received the award for Universal Design by the Remodeler's Association for a disabled veteran who needed a tasteful home upgrade that better accommodates his abilities. Talk to your project manager about how you envision your home ten, twenty, or even thirty years from now. Consider things like expanding doorways, automating electrical systems, making storage areas more accessible, or adding a main-floor bedroom addition. All of these can help future-proof your home and ensure that you're comfortable now and as you age.
---
Remodeling Services We Provide
Working with Star Builders, LLC means you have someone to count on for your home upgrades in the future, so delivering a great product is our top priority. We want you to be excited and adequately-prepared for your remodeling project, not worried about it. From upgrading a few features to make a bathroom more accessible to building entire facilities from the ground up, Star Builders, LLC professional services are wide-ranging.

Professional Services
Consultation and Estimating
Planning
Design and Drafting
Documentation
Permitting
Remodel
Kitchen, Bathroom, and Additions
Commercial and Tenant Improvement
Senior Living Remodel and Suite Refreshes
Other Remodel Services
Demolition and Disposal
Grab Bars, Bath Accessories Installation
Flooring
Finish Carpentry and Custom Cabinetry
---
Home Remodels For The Future
Your remodeling project can range from just a few updated windows and new flooring to complete demolition and rebuilding of your primary living spaces.
It's entirely up to you. But we're here to help you refine the details, answer the right questions, and envision the process before we begin. Our team can perform nearly any project, and you'll soon find that the list of what we can't do is minimal. We love helping Stayton residents make their homes or facilities more useful for the long term.
Aging-in-Place and Accessibility Remodels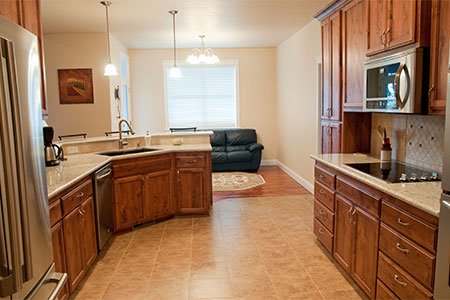 Owner, Jason Robertson has a long, proud history of working with accessibility issues in new construction and remodels. After remodeling a bed and bath for someone who had suffered a stroke, he was inspired to launch Star Builders, LLC Accessibility Remodels Program.
We understand that most homes built are under the assumption that its occupants have complete, unfettered mobility. But as we age, small doorways, stairs, tight corners, and swinging doors start to become a hindrance. There's no need to live in a home that's working against you. Talk to us about assessing your home's safety issues, traffic patterns, and barriers.
When faced with the prospect of moving to an assisted living home, many older adults are outfitting their homes to accommodate their changing needs. Star Builders, LLC, helps you stay at home in comfort by specializing in accessibility remodels. From ramps, railings, and widened-doors to unique flooring and walk-in showers, we help you stay where you want to be – at home. Your remodeling contractor can manage every detail of your kitchen or bath, excelling in attractive and usable floorplans that you'll love for years. During the planning stages, you'll be able to look at tile, cabinet, and flooring samples, layouts, lighting ideas, and all types of tubs, sinks, and appliance options. Your designer will work with you to integrate new features into old ones and decide which elements need replacement. Doing this allows us to get an idea of the full project cost. We make sure to discuss your budget beforehand, so there are no surprises or letdowns as you move forward.
Expansion Remodels and Additions
Sometimes all a living space needs is a bit more square footage, and an expansion is an inexpensive way to achieve that. We can help you identify the most feasible areas to extend, remove walls, or combine with other rooms. You'll be impressed by how a little extra space can make a dramatic difference in how your home feels.
Garage Remodeling
Star Builders, LLC is licensed to remodel, build, and convert garages. We can work with your existing garage or advise when a tear-down is a better option. Whichever you decide, we help you adhere to Stayton's building codes.
Remodels for garages can include structural soundness, additional doorways, windows, insulation, plumbing, and electrical. Your project manager can help you determine what you have to work with and then move forward with how to improve the existing structure.
Kitchen and Bath Remodeling
As the gathering place in most homes, the look and functionality of a kitchen are critical. And with as many functions a bathroom serves in terms of hygiene and privacy, your bathroom should leave nothing to be desired.
Your project manager will work with you to narrow down which features you'd like to keep, and which you'd like to change. There's a lot to consider! So, it's nice to have a pro help you through some of the more complex areas of kitchen and bath remodeling.
---
What We Offer For All Of Our Remodels
A one-year defect warranty of your project
Final walk-through and inspection once the project is complete
Consistent communication throughout the process
A 2000 square foot local showroom where you can shop materials and designs
A dedicated project manager to help with scheduling and decision-making
A significant benefit of partnering with us is that we own and operate our showroom. Most other remodeling contractors send you all over the city looking at different stores for lights, cabinets, and countertops. But we have a 2,000 sq foot showroom in Keizer that is fully stocked with products to inspire your remodel! This way, you can spend more time with your designer picking out the perfect tiles, colors, and other features. Not only does this help our clients feel more comfortable and make the remodeling process much easier and less stressful, but it makes Star Builders, LLC your one-stop-shop for remodels, additions, and new home constructions.
---
Professional Remodels
Make your home the best version of itself. If you're considering moving because your home fails to serve you, think first about how a remodel can offer solutions without the headache of staring all over again. Ask us about our previous projects. We'll even schedule a time for you to walk through a remodeled home that reflects your vision. For results that you'll be happy with for a lifetime, call Star Builders, LLC, for remodeling contractor services. Our local, employee-owned company has accomplished a lot in its ten years of service to Stayton. We will continue building on that success, one project at a time.
---
Common Remodeling Contractors Questions
What should I look for in a remodeling contractor?
I suggest looking for a company that has been established for a while, has membership with either their local home builders or remodelers association, and is active in their community. I suggest a company that is employee-based with long-term retention. These company characteristics will ensure a company that does quality work and stands behind its work.
How long does a typical remodeling project take?
The timeline for a remodeling project depends on several factors, such as the project's scope, the space's size, and any unforeseen issues that may arise during construction. A simple renovation may take a few weeks, while a major remodel could take several months.
What is the cost of a remodeling project?
Please call us at our office M-F and tell us about your project so we can go over more information.
Will I need permits for my remodeling project?
Please give us a call M-F, and let's talk about your project and discuss all the reasons for permitting.
How involved do I need to be during the remodeling process?
While you don't need to be on-site every day, it is important to communicate regularly with your contractor to ensure the project is on track and that you are happy with the progress. Your contractor should also inform you of any unexpected issues during construction.