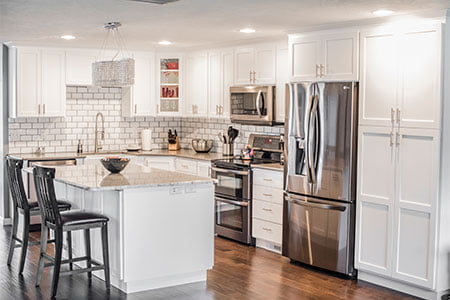 Just because a house has a particular layout, doesn't mean it has to stay that way forever. The remodeling team at Star Builders, LLC, can help you find solutions to your home's available space issues affordably and effectively. Our team provides the value-added service that our clients look for in a contractor. Whether you need a kitchen or bathroom addition, or just simply more living space, we can help.
Our mission is to help Salem homeowners in the local Mid-Willamette Valley get as much as they can out of their home upgrade within budget. And we achieve this by striking a comfortable balance between practical solutions and high-end results. Whether it's a main-floor room addition, room expansion, second-story addition, or turning a deck into an all-season recreation room, we make it happen. Having earned dozens of local remodeling contractor awards and a long list of satisfied clients in the Mid-Willamette Valley, we are committed to maintaining our standards of service for future business.
---
Kitchen Additions
Bathroom Additions
Bedroom Additions
Second Story Additions
Garage Additions
Sunroom Additions
Porch and Deck Additions
Family Room Additions
In-Law Suites
Master Suites
Bonus Rooms
ADU's (Accessory Dwelling Unit)
---
Adding Additional Living Space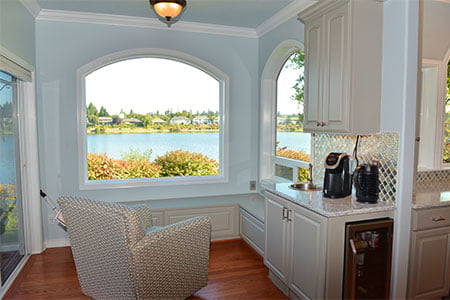 Maybe building up instead of out is the best way to preserve your outdoor areas. Or instead of extending the dining room, perhaps turning a rarely-used porch into an additional entertaining space. We ask the right questions at the right time, helping you think about the current function of the area and how it might change in the future. How long do you plan on living in your existing home? Do you have space to accommodate extra family members? Whether they're just visiting or need 24-7 care due to declining health, can you envision how your home will operate with additional occupants?
For many families, moving to a new house or neighborhood to gain more living space is not an option. And in well-established neighborhoods in Salem, building laterally isn't viable either due to space limitations. This is why a second or third level can save homeowners money if the only other option is to relocate. The craftspeople at Star Builders help you organize, plan, and take a smart approach when building on to your home. The first consultation is on us. We want you to be confident going forward if you've never worked with us before. This time is essential for establishing trust, getting to know each other's style, and deciding on the best solutions for your home design within budget.
---
Additional Considerations
Allowable Building Code
Structural Requirements
Set-Backs
Utility Hookups
---
High-End Additions for Added Value
Star Builders is a full-service remodeling and construction company, which means that you don't have to hire multiple contractors for the various elements of your addition. Depending on what you'd like done, when you work with us, you get it all.
By consulting with our designers about your home's existing structure, architectural details, and ideal location for the expansion, you can have an addition seamlessly built into your home.
---
Home Addition Contractors
The designers and craftspeople at Star Builders ensure that your addition makes sense with the existing layout, or at least takes a smart approach to defying it! Starting with a free in-home consultation, we learn about your style and how you'd like the addition to function. Will this be an area you'll use regularly, or will it be exclusively for guests? Does it require utilities or any special accessibility features?
Whatever you're dreaming of, we can create a detailed design using CAD and CAM software that gives you a preview of the final product before we even get started on construction. And once you sign an agreement with us, you can rest assured that you're in good hands. Our project manager maintains a consistent line of communication with you. Doing this ensures that you know when the workers will be arriving, the work they will be performing, and which parts of the house they will be working on that day. Contact us today to see similar projects we've done in the Salem area; we look forward to working with you.
---
Aging In Place Remodeling
We work with you to make sure the remodeling process doesn't inconvenience you for longer than necessary. And we help you think about how your addition will continue to serve you through the years; it's called Aging-in-Place. Our team is certified in crafting the types of additions and remodels that are comfortable for people of all ages and abilities.
In addition to a free consultation, the skilled team at Star Builders LLC helped this client through every step of the process by:
Providing insight and full design service using CAD and CAM software
Obtaining building plans and permits
Submitting a detailed proposal and contract
Ordering materials beforehand
Scheduling and coordinating workers
Communicating daily with the client
Completing the room addition project on schedule and budget
---