Getting the Most Attractive Kitchen Remodels in Salem, OR
What do you think of when people talk about beautiful homes? Is it a pleasant living room with a full bay window? A stately dining room or an adorable nook? What about a serene bedroom? Whatever it is, you probably don't picture the kitchen. If you're someone who doesn't think of kitchens as having style potential, prepare to be surprised. Star Builders can tell you all about ways to use a kitchen remodel in Salem to spice up the look of your living space.
Various small projects to make a big difference
The idea of updating any room in your home might seem daunting. A kitchen remodel in Salem doesn't have to be a big operation. You can take on parts of the work piecemeal, or at whatever scale you choose.
The backsplash
The backsplash is technically just the section of the wall behind your sink or stove. It's usually about a foot or a bit higher. In practice, most people use the term backsplash to refer to the entire band of the wall that's level with the countertop and sink. Many homeowners put up decorative bands along this area. There are several options:
Wallpaper: A simple foot-high section of wallpaper running over the counter. You've seen this in your grandmother's house, usually something with flowers or garden veggies. Wallpaper is easy to set up, as you don't have to have any special skills. Just paste up the paper wherever you want it. The problem is that the area behind the sink often gets wet, and the area behind the oven gets spattered with grease; this can easily stain or cause your wallpaper to peel.
Tile: Tile is a solid choice for backsplash materials. It's sturdy and durable, as well as easy to clean. Tile also comes in your choice of many colors. The problem is that it can be challenging to repair if you chip it, and tile is not as cheap as other materials.
Marble: For someone who wants to make a striking impression. Marble is a beautiful stone that has unique two-tone coloration. It's relatively expensive and heavy. You also need to use special stone cleaners because the rock is a porous material.
Metal: You can get metallic borders. They provide outstanding protection against water and are exceptionally durable. You can get flat metal or stamped pieces with repeating designs. They're also more expensive than wallpaper.
Cabinet door replacements
Replacing your cabinet doors is a simple project. You can get it done yourself over the weekend. For something so simple and easy, it creates a more dramatic effect in your home.
Here's what you need to do to replace your cabinet doors:
Gather Your Tools: This job requires a power drill or driver, standard Philips bits, and wood fasteners. You might also need wood filler putty.
Remove the Existing Doors: You can remove the doors by using your power driver. Most fasteners in this type of carpentry have Philips' heads.
Inspect the Holes: You need to make sure that the screws haven't stripped out the wood. If the holes are too big, you're not going to get your screws to find purchase.
Fill the Holes if Necessary: If any of the holes are too big, use the wood filler putty to fill them in. Make sure that you use a non-shrinking cellulose variety. The label should call it "safe for sanding and screwing." After it dries, sand it smooth if necessary.
Screw-in the New Doors: Align the door hinges over the holes. If you had to fill any in, use a pencil to mark their position. Now screw them in with your driver. Be sure to use wood screws, as they have broader threads.
Test the Set: Gently open and close the door, making sure that it's sturdy. Also, measure the angle. If you don't have it perpendicular to the floor, depending on your setup, you might not be able to close both cabinet doors.
And Repeat: That's all there is to it. Now do this for every other cabinet door in the kitchen.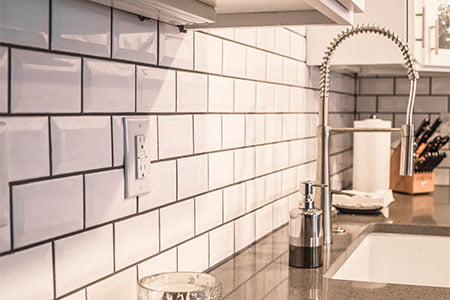 Cabinet door ideas
The material and color of your cabinet doors is the most critical consideration. You've got a lot of different options available. For instance:
Wood: Woodgrain has a beautiful look. It adds an organic appearance to your room's decor. Real wood is sturdy enough to hold up to repeated use.
MDF Panel: MDF, or medium-density fiberboard, is made from layers of wood products. It's reliable but doesn't look nearly as beautiful as the real thing.
Glass: Glass or acrylic windows built into the door make your kitchen look more sophisticated. It's best not to use glass windows on floor-level cabinet doors for safety's sake.
Star Builders' kitchen remodeling in Salem
Once you've done these projects for yourself, you might find that you still want to do more. To save yourself some time and to ensure that you get the best possible results. Hire a professional. Here at Star Builders, we've been working on kitchens since 2007, and in that time we've built up a reputation for quality, integrity, and dependability. We can work with types of kitchen projects, from small to complete overhauls.
If you're not sure what you want, but you know that you need a change, we have designers on our team. All you need to do is give us a call or fill out the contact form on this site. We set up a free consultation to learn what it is that you want and to come up with a plan to make your vision come true. Once we have the idea in place, we explain the job and its terms to you in plain language. There are no surprises; what you pay for is what you get. If you ever plan to go beyond your kitchen, we do all sorts of remodeling. Come to Star Builders for your first project, and you'll keep coming back again and again.