Do you own a brick home and feel as though it is looking old and dated? Are you considering painting it but you're not sure if it's a good idea? If you're looking for a home exterior update, painting your brick is an option. However, it is a hardy material and not designed for painting, so it is challenging and best to have it done by a professional contractor Salem OR.
Brick is a building material that is popular for its already beautiful color and durability. One of the many allures to brick houses is that a homeowner will never have to paint them. Keep in mind; this doesn't mean you should shy away from painting. Having your brick painted can provide several benefits:
Create curb appeal – Painting your brick can create beauty and add value to your home when done correctly.
Brick is long-lasting – Unlike siding, brick is sturdy and durable, and if you take care of it, you should never have to replace it.
Paint may add protection – Adding paint to the brick creates a sealant that can help reduce fading and mortar weakening.
Easy cleaning – Due to the porous nature of brick, debris, pollen, and dirt gets trapped in the pores.  After painting, the surface appears smooth and easier to clean by power washing.
Love your home again – If you are feeling your home needs an update, a beautiful paint job may be just what it needs!
Things to Consider Before Deciding to Paint Your Brick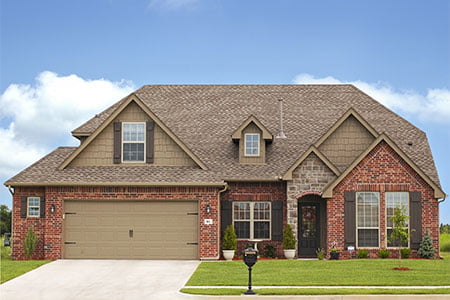 Painting your brick house is permanent, and you can't quickly go back, so you need to be sure that this is something you want to do. Before deciding that painting is the only way to update your home's exterior, consider smaller, less permanent exterior changes first. You could paint the exterior wood trim or your garage door to freshen up the look of your home. You could also add or paint shutters and window trim. All of these things can help upgrade the look of your entire home. Paint is tough to remove from brick, and the process of even trying can be very costly. So, if you don't like the results, you're likely stuck with it unless you repaint in a different color.
The good news is you can paint and change the color as often as you like! Experts suggest that if you paint exterior brick, you will need to repaint it every three to five years. The paint will seal the natural pores of masonry, not allowing moisture that is absorbed through the mortar to evaporate. Doing this can cause the paint to chip and flake.
If you are still on the fence about painting your exterior brick, don't just go for it without thinking it through. Keep the following thoughts in mind, and you go through the process of deciding to paint your brick:
Condition – Brick needs to be in good shape before even considering painting it. You may think a new coat of paint will help hide aging brick, but painting it could do more harm than good. Never paint deteriorating or chipped brick as they are susceptible to moisture. When you paint molded or moist bricks, you will only exaggerate the problems you're already experiencing. Only brick in excellent condition with no chipping or cracks will result in a smooth coat of paint.
Preparation – There are a few things you should do before the painting process begins. Check the mortar joints and ensure the brick and mortar is dry and in good condition. Any white residue, called efflorescence, should be removed. You should bring in a professional to power wash exterior brick and let dry for at least 24 hours before it's painted. You should not paint brand new brick for at least a year.
Products – It is essential to use the correct type of paint for brick. The exteriors are incredibly porous, so you will need to select high-quality masonry paint to ensure successful, lasting results. It is also strongly recommended to use a special alkaline-resistant primer before painting over brick and mortar. Of course, the best way to ensure that you are getting the right products is to have a professional paint color consultation
Maintenance – Once the painting is complete, you may need to clean your house exterior more often. Painted brick is generally easier to clean than natural brick. However, dirt and mildew are much more visible on painted surfaces. Scheduling an occasional professional power washing can keep your brick exterior fresh and clean.
Hire a professional – Considering the complexity of painting brick, letting a professional painting contractor with experience painting this type of material is your best option. Expert painters know which tools, paints, and materials to use to repair, clean, dry, prep, and paint your brick to the highest standards. If you make the mistake of painting damaged brick, fail to prepare the brick properly, or use the wrong paint, it could end up being very costly. Why not trust your home to the experts and ensure a job well done the first time?
Ultimately, painting your brick home could be an excellent investment if it is done right and maintained properly. Now that you have a better understanding of what is involved in the process, you can make an informed decision about using paint to update your brick exterior.
Trust the Professionals to Paint Your Brick Home
When you work with the professional exterior painters at Star Builders LLC, we paint your brick home properly. We use only the best paints and primers to give you a flawless paint job that guarantees a stress-free home improvement experience. At Star Builders, we leave no unanswered questions, take the time to ensure our clients' satisfaction, and maintain constant communication during every stage of the project. Our pricing is competitive, and the attention we give to each detail proves our commitment to our clients. Call Star Builders today to schedule a consultation.