Tips for your bathroom remodeling in Salem, OR
We could all use more serenity in our lives. Where do you start? Building a private retreat? Going on vacation? Did you know that you can create a sanctuary within your home with just a few adjustments? Minor bathroom remodels, yes, bathroom remodeling, can give you a place to escape from everything.
Your bathroom is, in many ways, the most private area of your home. If you have children, they're more likely to give you time to yourself if you're in the restroom than if you're in your bedroom. When you wake up in the morning, your first destination is the restroom. What's more relaxing than a long, hot shower to unwind at the end of a long day? A bathroom remodel can be an extensive project, perhaps taking months to finish, but that's up to you. With just a few changes, you can completely change up the look of your restroom. From there you can go further at a later date if you choose.
Small changes for a simple bathroom remodel
When you're planning to make a change, it can feel overwhelming. Where do you start? What type of look expresses your personality? The best advice is to consider one thing at a time. If you logically approach things, the overall project seems much more manageable.
Color considerations
The colors in a room are likely the first thing that you notice when you enter. Try breaking your bathroom into three "color zones." The primary zone is the walls, while the second area is the window frames and door frames, the countertops, and other surfaces. Your final region is the accents, which include fixtures, doorknobs, faucets, handles, and so on. Each of these can be a different color, but you get a more serene effect when the colors are complementary.
A smart design approach is to separate them into warm and cool colors. Neither "temperature" is necessarily more relaxing than others, but if you choose to go warm, it's best to avoid exceptionally bright shades. Cools include green, blue, and violet. Yellows, oranges, and reds are warmer.
Metallic elements, such as your faucet, can be cool or warm, too. Bronze, brass, copper, and other shades are warm. Aluminum, stainless steel, nickel, and titanium are cool.
Don't forget the effect of neutral colors. Black, white, and gray are all neutral, neither hot nor cold. They can coordinate well with any other shades. Your overall effect is mostly dependent on your use of neutrals. For instance, if you have blue walls, purple trim, and a green floor, your bathroom has a more refreshing look but is also very busy. For a more subtle effect, choose white walls with say, blue trim, and aluminum fixtures. You still get a cool result without getting overwhelmed.
Lighting for the mood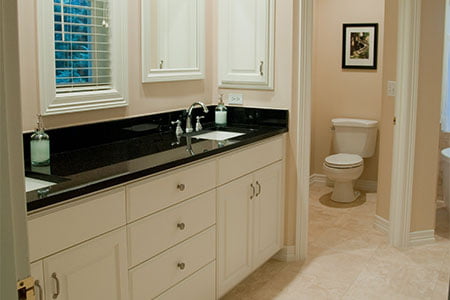 Direct lighting makes it easier to see what you're doing. Examples include rows of lights around a mirror to help with makeup application or spotlights that you can direct to any angle. Indirect lighting allows you to see within a room, but it's softer and has a gentler overall effect. Recessed fixtures tend to diffuse light for a more peaceful appearance.
If you don't already have multiple types of lighting installed, why not have your contractor set you up for both indirect and direct lighting? You can install numerous fixtures, each on individual switches. Doing this allows you to turn on just the lights you need to see, or to get more direct lighting for when you're shaving, combing your hair or putting on makeup in the morning.
Practical considerations
When you're planning an aesthetic remodel, it's still an excellent idea to consider any accessibility needs. Are you getting older? Does anyone who lives in or visits your home have mobility issues? Sometimes you can solve these with just a few metal grab bars to prevent slips. Has your family grown since you moved into the house? If so, you might need additional storage space for towels or bathrobes.
Hiring a professional designer
Sometimes you don't know what you want. In that case, it's handy to add a design professional to your team. Just as skilled an artist as any painter or sculptor, your designer can help you in many different ways:
Ideas: Professionals are up to date on the current design trends. You can catch up on what's current, or go for something more original than what your neighbors are doing.
Finishing: Sometimes, you have the beginning of an idea, say one specific element in mind, but don't know how to execute it. A design pro can give you plenty of ideas to tie in with your central concept.
Execution: If your designer isn't also a contractor, they almost certainly have connections with local remodelers. The more experienced and reputable your designer, the odds are better that you'll work well with the recommended contractors.
The right bathroom remodelers in Salem
Whom you choose to work with your remodeling project makes all the difference in the world. As important as your bathroom is, you can expect nothing less than the best in terms of service, quality, and integrity. Here at Star Builders, we're one of the most trusted businesses serving Marion County. Our team is very professional. The builders are all trained and very competent. We respect your personal space and leave your home looking better than when we found it. The job is as unobtrusive as possible, and once we complete everything, you have something beautiful added to your home.
We've won awards for achievement from the Oregon Remodelers Association, and once you work with us, you'll see why. Give us a call or use the contact form on this site to get us on the job today. Whether you've already got a plan in place or you're starting from the ground up, at Star Builders can do it all. We do everything on time, within budget, and to the highest specifications.