Sidestep These Bathroom Blunders and Get the Most Out of Your Remodel
Remodeling a bathroom can be one of the most fun and rewarding experiences of homeownership. But not without a healthy dose of stress and pressure. It is, after all, a relatively permanent change that requires a hefty budget. And without a skilled remodeler, you run the risk of building ugly mistakes right into your beautiful new bathroom. That said, choose your remodeler carefully and try not to talk them into any crazy ideas.
Beautiful fixtures and no ventilation
Yes, the turquoise-tiled shower needs upgrading, and the lack of storage space needs to be addressed, but don't forget about ventilation! After all, none of your fabulous upgrades will last long without it. If your current bathroom doesn't have a window, now is the time to see the light.
Of any room in a house, the bathroom seriously needs ventilation. If you live in a cold climate, windows are still a practical upgrade so long as they're energy-efficient. And the added natural light will do wonders for your morning grooming ritual. Window or not, all bathrooms need ceiling fans for keeping the air fresh and removing moisture. And if your bathroom is 'landlocked,' ask your contractor about installing an operable skylight.
Choosing difficult-to-clean materials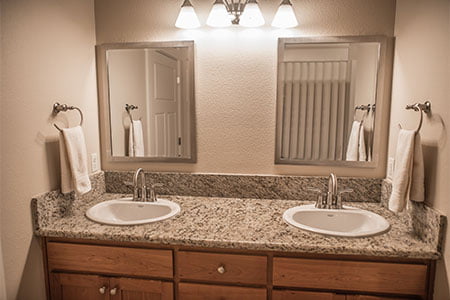 Ceiling to floor glass doors look great, but if you've ever tried to clean mineral deposits, you know the struggle. Glass shower separators are going to get splashed with water and dirt and soap regularly. And if you're not a fan of breaking out the rubber gloves and mild abrasive cleansers every other week, you may want to think about other materials or hiring a cleaning service.
When choosing materials, think about where mold and mildew tend to build up (hint: in corners, crevices, tracks, contours, and anywhere that two elements meet). Remember that you can easily clean white grout because you can use bleach, and porcelain can be brought back to life again and again with mild abrasives like Softscrub or BonAmi.
On the other hand, small tiles mean lots of grout. And lots of grout means lots of grout cleaning. The same goes for finicky materials like brass that requires specialized cleaning solutions to keep from developing a patina.
Only one source of lighting
Even if the bathroom is small, it's nice to have good lighting for a variety of purposes. Be it a recessed light over a dark, curtain-clad shower, a complexion-flattering tubular sconce near the sink and mirror, or a dim, understated ceiling light for those early mornings. You'll be grateful for the options when you settle into daily use.
Some bathroom remodels even integrate symmetrical sconces into the mirror itself, eliminating the need for a separate makeup mirror. If you're restoring your bathroom to the home's original design, make sure the lighting doesn't offset the period-specific effect. Check your local used hardware stores for the 19th or early 20th century lanterns, candle sconces, and vintage chandeliers.
Interested in making your bathroom remodel serve you for a lifetime? Read all about why Star Builders specializes in Universal Design.