Painting Considerations
Deciding to paint a home or the interior of a home can be a daunting task. And for some it could see like a very fun opportunity for a DIY project. But there is a lot more that goes into painting a home than one might think. Picking out the colors is probably one of the best parts of painting; grabbing handfuls of color swatches and debating between several choices. This is where a remodeling contractor can be useful. Because they have years of experience painting homes of all different colors, they have a good eye for design. By suggesting certain colors that would compliment the existing design of the home, along with specific finishes that go better in certain areas like gloss, satin, matte, semi-gloss, etc.
Professional painting contractors also have strategic ways of painting a home to make it the most efficient. Some homeowners might just grab a bucket of paint and start wherever. But for the painters at Star Builders, LLC they approach each home and building with a specific game plan in mind. They know exactly where to start and where to end to ensure each spot is painted thoroughly and no spots are missed, without any awkward overlapping or mishaps.
Proper Painting Equipment
Another reason to hire a painting contractor is the amount of equipment they have available to them. Certain jobs require certain equipment, including safety gear, paint sprayers and patching tools. When painting contractors arrive at a home or building they will inspect all the surfaces before the painting actually begins. The reason they do this is to look for any abnormalities that would cause the paint not to perform properly. Any dents, chips or scratches need to be repaired before the painting can begin. Which is why they bring repair equipment for minor things like this. Without repairing those dents and chips the paint would look very uneven and not nearly as nice as it could look.
The other equipment that painting contractors bring with them is drop cloths, plastic sheeting and tape. This will prevent any paint from getting on surfaces that aren't being painted, including windows, furniture and the floors. After the contractors have finished the painting job they will be able to quickly take down all the equipment and clean up leaving the area looking wonderful with a brand new coat of paint. Compared to when homeowners try to perform these jobs themselves and likely end up with messes and have to spend hours cleaning up afterwards.
Painting Assurance Guarantee
One of the main reason people hire professional painters is the assurance they get from working with general contractors like Star Builders, LLC. Being able to rest easy knowing the team working on a home or building is insured and fully capable of performing the job needed to the level of satisfaction by every customer. Not having to worry about finding the right time to paint or the project taking months because spare time here and there isn't enough is a great reason to hire a professional painting contractor. They can work with schedules to perform the job when it works best for the customer. And the job will be completed much faster than if the homeowners or building owners were to do it themselves.
Different Paints For Different Rooms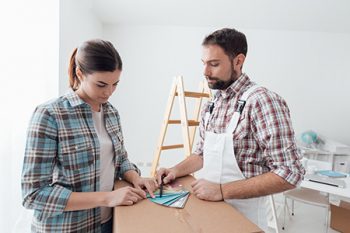 When deciding on which paints to use for different areas of a home or business it is extremely important to consider the sheen of the paint. The sheen is the amount of shine that the coat of paint will have. A general rule of thumb is the higher the sheen the more durable and resistant it will be. For kitchens it is a good idea to choose a durable paint for the amount of traffic that goes through that room. High gloss or semi-gloss is a great choice because it is relatively durable and easy to clean. For the living room or other high traffic areas a satin finish is a good option because it is also easy to clean. For more low traffic areas like the dining room eggshell would be the best selection that provides a smooth finish. And for bedrooms and other low traffic areas a flat or matte finish is perfect because it won't reflect a lot of light so it provides a warm, cozy feel to the room.
There are pros and cons to both high sheen and low sheen. High sheen is great for busy areas because it is easy to clean fingerprints and sticky messes. But higher sheens also show more imperfections. So it is important to be extremely diligent in the prep work before applying a high sheen paint. Whereas with matte paints or very low sheen paints they do an excellent job at hiding imperfections on the walls. But this finish on a paint makes it substantially more difficult to clean. Any rough scrubbing will damage the coat and effect the look of the paint.
That is why working with painting contractors is beneficial. With the knowledge and experience of all different kinds of paint, they will be able to suggest certain paint types for different areas of a home or building.
Quality Painting Products
There's nothing worse than painting an entire room or the outside of a home or building to find out that the colors is not what it looked like on the swatches. Maybe it dried and faded from the vibrant color that it was in the bucket. Or the paint was the wrong type to use on the outside of a building. Whatever the reason is, it's awful to waste that much time just to get the wrong results. But working with the painting contractors at Star Builders, LLC grantees the right products will be used for the right applications. Living in the Pacific Northwest the team knows exactly what kinds of paints are best suited for homes and businesses in the Salem, OR area. And because the team at Star Builders, LLC are general contractors they do everything from painting to construction to design. Providing Salem, OR residents with the best selection for residential and commercial construction services. Call today!