Modern Kitchen Remodels
Remember the Jetsons?
Back in the day, this cartoon made a child's imagination soar with seemingly outrageous visions of what "the future" could be. There were robots everywhere. Everything was automatic, convenient, and seamless.
Although the reality is not quite as glamorous as we originally envisioned, it would seem that "the future" is a lot closer than the average person predicted. There are products like smart light bulbs that change colors according to your mood, or robot vacuum cleaners that require virtually no effort from their owners. These things are becoming staples of the modern household, and that is barely skimming the surface.
The kitchen is no different. While many of these gadgets may seem a bit far-reaching, it's fun to dream. If you're thinking about remodeling your kitchen in Salem OR, this might be a fun detour away from the more technical side of things. So we rounded up a list of some of the coolest high-tech gadgets made especially for the kitchen:
High-tech devices to inspire your next kitchen remodeling
Not much of a grocery list maker? This device does the work for you. The device attaches to your garbage can and scans the barcodes of empty bottles and other grocery items that you will want to replace during your next shopping trip. It automatically adds these items to a list that you can access easily from your phone at any time.
Jars are an essential kitchen item for containing dry foods such as the ingredients found in the bulk food aisle. The Neo is a high-tech version of this pantry staple. It can not only provide you with measurements to alert you when your running low. But it will also suggest recipes and place an online order to replenish itself when it's running low, all thanks to its Wi-Fi capabilities.
Eggminder
Do you often find yourself at the grocery store, knowing you need eggs but not sure how many? The creators of the smart egg container strived to solve this exact problem. It will let you know how many you have left, and when they go bad—information, you can access from a smartphone app at any time.
HAPIfork
Yes, it is a robot fork. If you have trouble maintaining weight, you might fall in love with it. It will gently alert you when it detects that your eating has exceeded the limits that you have set for yourself. This utensil can be particularly useful for a parent who has trouble keeping an eye on their hungry child at the dinner table. If it detects that they're eating too fast, it will let them know for you.
If you love Alexa, you'll love the Amazon Echo Show, especially when it comes to cooking. Consider Alexa, your virtual kitchen robot, as the Echo Show is essentially the same thing as the Echo, but with a screen to display video and images. She can show you recipes, set timers, and reminders, and add items to your grocery list. Now you can play music or TV shows as you cook, clean, or whatever else you love to do in your kitchen.
Google Nest Hub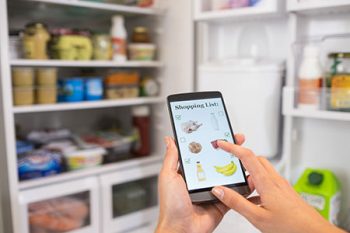 Google's Nest Hub is a lot like the Amazon Echo Show. Many critics will argue that the automation capabilities and voice control are much better with the Google Home, but it comes down to preference. If you're a fan of Google Home, this is probably your best bet.
That's not to say you are limited to these two options, however. Plenty of smart hubs are now competing against each other, boasting numerous capabilities and integrations. Facebook has even recently announced its version. If you're considering a home automation system and these gadgets sound like something you may want, you'll want to choose an option with the best compatibility. Check out this comprehensive review of the best home automation systems of 2019 if you're considering this for your home.
With Wi-Fi capabilities and compatibility with both the Amazon Echo and Google Home, these sous vide machines are a modern-day version of the classic kitchen staple. Set it up, go to work and come home to a meal that is ready to dig into with little to no effort.
The Range is every advanced chef's dream, not an ordinary thermometer. This handy gadget is precise and innovative—and is even able to connect to your phone to display temperature graphs and other insightful visualizations and readouts.
Crock-Pot Wemo Smart Wifi Slow Cooker
As if the classic slow cooker wasn't already your go-to kitchen appliance, Crock-Pot has stepped it up. The new Smart Slow Cooker is even more technologically advanced and convenient than before. It's internet-enabled and can be controlled from your smartphone whenever and wherever.
Evercook Automated Pressure Cooker
This gadget may genuinely be the closest thing to a robot chef that exists today. It's a pressure cooker and food processor in one, with automated capabilities such as stirring. The pressure cooker can do all of this based on a recipe that you program into the machine. You can control it from your iPhone, too. You don't have to do much at all with this handy machine, and still come home to delicious home-cooked meals that are ready to eat whenever you want.
While this gadget is not for kitchen activities, this useful device connects to your cold water line beneath the kitchen sink. The device senses vibrations in the plumbing system to provide you with an accurate analysis of the water usage in your home. Including how much is you are using, where it's coming from, and other patterns. It can even alert you about issues like leaky pipes, clogs, or recommended maintenance tasks.
With water quality causing frequent concerns around the country, water filtration systems have never been more in-demand. But this device will make your Britta seem ancient. The device attaches to your faucet, and not only filters out potentially harmful substances but also analyzes the quality of the water. This device will alert you when things aren't looking healthy. With a connected smartphone app, it can send you a detailed analysis of chemicals, metals, and other hazards and provide advice on how to steer clear of them.
Ever try to grow your herbs and vegetables at home? It's not as easy as it looks—especially if you're attempting it indoors. With a smart garden such as this one, you don't need to worry about maintenance like light and watering. This intelligent machine does all the hard work for you.
Looking for a kitchen remodeling contractor in Salem?
If you're thinking about remodeling your kitchen in Salem OR, give the contractors a call at Star Builders LLC. We can help you with the process from start to finish, taking out the stress and effort that can turn your kitchen remodeling project into a headache. With us, you can get your dream kitchen faster than you imagined.