Are you starting to notice that your current kitchen is looking a little outdated? Are the appliances and cabinets starting to show their age? If so, it might be time for a kitchen remodel. A remodel can add value to your home and make cooking and dining a more enjoyable experience. This blog post will discuss some signs it's time to remodel your kitchen. We'll also provide tips on choosing the right contractor and design team.
You Lack Storage and Prep Space
If you're constantly running out of cabinet space or counter space and it feels cramped with more than one person, it's time to consider a kitchen renovation. Lack of space can make it difficult to cook and can make your kitchen feel cramped. A remodel will allow you to add more storage and kitchen countertop space. There are several ways to add storage space, such as adding more wood cabinets or installing a kitchen island. This will also make your cooking space look more organized and tidy.
You can also consider expanding your standing space in your kitchen. Remodeling companies can work with you to find the best plan for this.
Your Appliances Are Outdated
Do your appliances look like they're from the 1980s? If so, it's probably time for an update. Technology has come a long way in recent years, and many energy-efficient options are now available. Replacing outdated appliances with newer, more efficient models can help you save money on your energy bills. It can also make your kitchen look more modern and up-to-date.
Your Cabinets Are in Poor Condition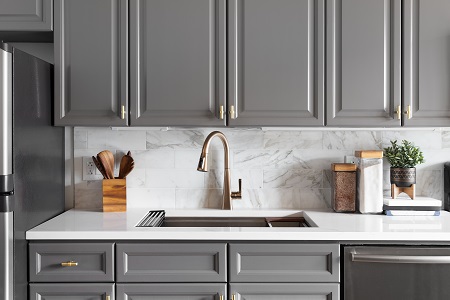 If your old honey oak cabinets are falling apart or starting to sag, it's time for a remodel. All-new kitchen cabinets will help to improve the overall look of your kitchen. They will also make it easier to keep your kitchen clean and organized. If you're considering replacing your cabinets, choose a style that compliments the rest of your kitchen.
You Want to Increase the Value of Your Home
Are you planning on selling your home soon? If so, a kitchen renovation can help to increase its value. A kitchen is one of the most important rooms in a home, and potential buyers will expect to see a well-designed and updated space. Experts suggest that a minor remodel project can add up to 7% to the value of your home. A remodel can still add value to your home, even if you plan on selling later.
You're Simply Not Happy with the Current State of Your Kitchen
If you're tired of looking at a dated and dull kitchen, it might be time for a change. A remodel can allow you to create a space that reflects your style. It can also make your kitchen more functional and efficient. Whether you want to add new kitchen appliances, update the cabinets, or completely change the current kitchen layout, a remodel can help you achieve your goals.
Your Needs Have Changed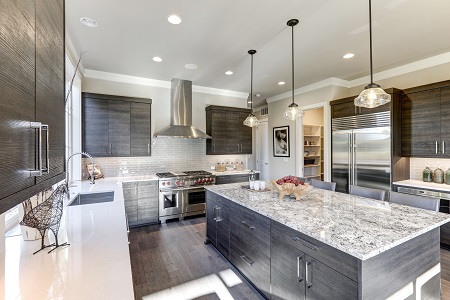 As your family grows, your needs will change. If you now have young children, you might consider adding a kitchen island with seating. This will provide a place for them to eat and do homework while you're cooking. If you entertain often, you might want to add a wet bar or wine fridge. Kitchen remodeling services can help you create a space that better meets your needs.
Your Kitchen Is Hard to Clean
It might be time for a change if your kitchen is difficult to clean. This is often the case with kitchens with many nooks and crannies. A remodel can simplify the layout and make it easier to keep your kitchen clean. For example, you might want to replace cabinet doors with drawers. This will give you easier access to items and simplify keeping your kitchen tidy.
Poor Lighting
If you have a poorly lit kitchen, it can feel cramped and dark. A remodel will allow you to add more light to the space. This can be done in several ways, such as installing skylights or adding additional windows. You might also consider adding task lighting, such as under-cabinet lights. This will make it easier to see when you're cooking and preparing food.
You Want to Make Your Kitchen More Sustainable
If you're interested in making your kitchen more sustainable, a remodel can be a great opportunity. There are many ways to make a kitchen more sustainable, such as choosing energy-efficient appliances or using recycled materials. You can also add features like solar panels or rainwater catchment systems. A sustainable kitchen can help you save money and reduce your environmental impact.
How Do You Choose a Kitchen Remodel Contractor?
When it comes to choosing a kitchen renovation contractor, there are several things you should keep in mind.
You'll want to choose

a contractor with experience

. This will ensure that they're familiar with the latest trends and technologies.

You'll also want to choose a kitchen remodeling contractor who is

licensed and insured

. This will protect you if something goes wrong during the remodel.

Be sure to

get multiple bids

from different contractors. This will help ensure you get the best possible price for your remodel.
Is a Kitchen Remodel Worth It?
A kitchen remodel can be a great investment, but it's important to consider the cost and whether or not it's worth it for your needs. A minor remodel might be all you need if you're simply interested in updating the space. However, a major remodel might be necessary if you're looking to make major changes, such as adding an island or changing the layout.
Contact Your Local Remodeling Professionals at Star Builders
Since 2007, Star Builders, LLC, has been a trusted name in crafting beautiful and functional kitchens in Salem. We are a team who offers kitchen renovation services, and we are passionate about creating your dream kitchen and believe that nothing is impossible. Our unique approach enables us to envision how to upgrade existing features to look and function much better. We collaborate with you to identify colors, textures, and design features that align with your needs and preferences to create a personalized space you'll love spending time in day after day. Our kitchen design experts are committed to providing a creative and professional approach to every project, and we take pride in the relationships we build with our clients. If you're ready for an exceptional kitchen makeover and a great partnership, contact us; we look forward to hearing from you and starting your next kitchen remodeling project.
Other services we provide:
Bathroom Remodeling Services

Additions

Custom Homes
Read our About Us page for more information about our company.