Need More Room? We Specialize in House Additions
Star Builders LLC is a general contractor specializing in home additions in Stayton and the surrounding cities.
Having earned dozens of local awards and a long list of satisfied clients in the Mid-Willamette Valley, we are committed to maintaining our standards of service for future business.
If you've decided to invest in your home by building an addition, we'd love to help.
Not only can we work with you in your home, but we invite you to visit us at The Tile Gallery – our 2000 square foot showroom where you can look at samples for cabinetry, tile, flooring, and paint colors.
But the most important function of this space is to offer a single location where you can conveniently put together the details for your remodel or addition.
---
Full-Service Design, Planning, and Construction for Stayton Home Expansions
We offer all types of room additions and are receptive to ideas that may be a little "out of the box." Our consultations are free, so you can talk to us about:
A Home Office
Master Suites
Bedroom Additions
Second Story Add-ons
Garage Additions
ADUs
Family Room Extensions
Porch and Deck Additions
Kitchens and Baths
Mother-in-Law Suites
Bonus Rooms
Rooms for Limited Mobility
---
More than Floorspace – Adding Value and Usability to Your Home
Regardless of how you add on to the existing structure, your investment will earn you significant returns.
If you plan on sticking around for a while, an additional living space will make it much easier to do so. And if or when you sell the property, buyers will be willing to pay more for a home with that extra square footage.
---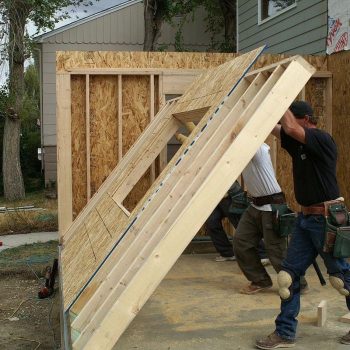 Up or out? Envisioning the process
Some of our clients have come to us with questions about building up versus building out. In many cases, a main floor expansion simply makes more sense.
Your main-floor addition would involve sacrificing part of your yard for more usable indoor space. It also requires installing a foundation, constructing walls, and a roof before removing existing exterior walls and connecting the two spaces.
The advantage is that the disruption to your daily life is minimal, at least compared to adding a second story.
By asking the right questions at the right time, we help you think about how the additional space will be used now and years from now.
Building up helps avoid potential hassles with zoning and building codes in terms of floor-area ratio ratings and proximity to the property line. But, it does open up questions.
Most additions are built into the ground floor because occupants need:
More kitchen space
A better place to entertain guests
A bedroom that eliminates the need to climb a staircase
Extra rooms to host overnight guests
A second bathroom
When considering a second story, make sure to think about:
Allowable building heights in your neighborhood
Where stairwells will go
Additional structural supports
New electrical and plumbing lines
Whether you'll need to be out of the house while the work is being performed
---
Partner with construction experts who have an eye for possibilities
However you imagine your home – taller or wider, more accessible or more luxurious, imagine it with Star Builders. Not only does our team create better homes, we create better experiences.
Get Your Free Home or Commercial Remodeling Consultation