Bathroom Remodeling Done Differently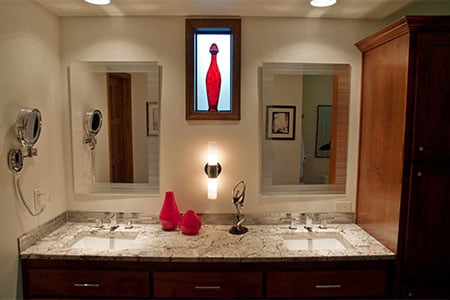 When you think about it, your bathroom is the real sanctuary of your home. It's where you go to refresh yourself and get ready for the morning. A long, hot shower at the end of the day is a relaxing experience like no other. As one of Marion County's most sought-after general building contractors for bath and kitchen remodeling, we're experts in turning the plain into the extraordinary.
When you work with Star Builders, LLC, you not only work with experienced contractors but also our in-house design staff. Our design team works with you to establish your preferences on all of these different remodeling elements.
---
Bathroom Remodeling Made Simple
While it might seem daunting, getting a new bathroom is more straightforward than you might think. We're an award-winning contractor with the skill and dedication to give you what you want without the hassle. From beginning to end, we keep you in the loop so you can hire us with peace of mind.
The free initial consultation allows you to talk with a professional before committing. During this time, we inspect the areas of your home that you'd like to upgrade. We listen to your needs, offer our professional advice, and come up with ideas together. Your bathroom remodeling project manager will be your point of contact from the start and will communicate any changes as they occur. This way, you never feel out of step or like your house is being overrun by workers. Our team understands what it's like on both sides. The excitement of finally getting started on a remodel, the (agonizing!) waiting period, and the anticipation once things begin to come together again.
---
Detailed Bathroom Remodeling
From top to bottom, there's almost nothing that we can't do for you. You can call us or fill out this contact form to set up a meeting. We get back to you very soon to get the ball rolling. While you wait, there are a few ideas for you to consider:
Pipes – Does any of your plumbing need replacement? Are you familiar with the styles of bathroom appliances that you might want?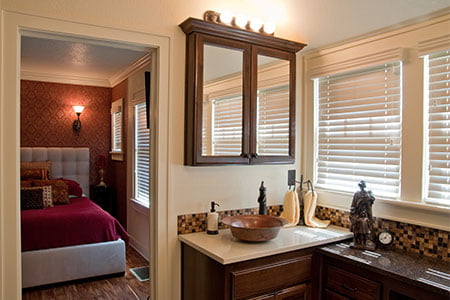 Illumination – Is your existing setup ideal for you? Are there any other places in which you'd like to install various lighting features?
Storage space – Are there any spots that you can use to increase your space efficiency? Why not install a recessed medicine cabinet if you don't have one?
Airflow and Windows – Your current bathroom might not be adequately ventilated, which is essential for preventing mold growth. Does the ventilation system circulate air properly and remove moisture from the room? Could you improve on this by employing an additional window?
The Makeup of the Bathing Area – Do you want a modern fiberglass tub or a classic cast iron clawfoot? What about a space for a stand-up shower? Would you like to use porcelain or acrylic plastic as the base? Have you picked out a palette of complementary colors?
Disability and Aging – Is your current setup designed to age with you? Will it remain safe for you to use?
A significant benefit of partnering with us is that we own and operate our showroom. Most other remodeling contractors send you all over the city looking at different stores for lights, cabinets, and countertops. But we have a 2,000 sq foot showroom in Keizer that is fully stocked with products to inspire your remodel! This way, you can spend more time with your designer picking out the perfect tiles, colors, and other features. Not only does this help our clients feel more comfortable and make the remodeling process much easier and less stressful, but it makes Star Builders, LLC your one-stop-shop for remodels, additions, and new home constructions.
---
Bathroom Remodel Process
At an initial sit-down consultation, we work together to determine what you want to see in your new bathroom. Once we have an agreement in place, our team gets to work on preliminary drawings of a general look. After that's complete, we progress into a development stage. At this stage, we clarify the overall vision and prep the project for rebuilding. We draft the final, highly detailed drawings for production and can move on t the last stages. Every project is unique; we tailor our process to suit your needs so that the project manager can give you a realistic cost estimate.
Turn to Star Builders to make your next bathroom remodeling project in Keizer a success!
---