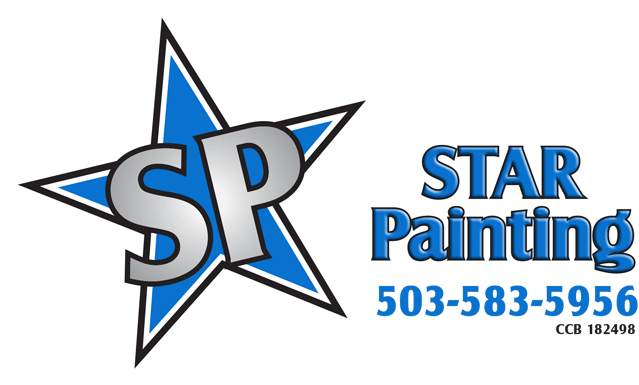 Visit Our Star Painting Site
For all your residential and commercial painting needs, visit our website:
www.starpaintingoregon.com
Identifying trouble spots in your paint
Interior and exterior painting requires more skill and knowledge now than in years past. Our professional painting team can handle any project – both interior or exterior painting solutions.
We can provide you with expert advice on color, types of paint, and application solutions that fit your goals and budget.
Contact us for a free estimate!
A quality paint job not only adds curb appeal, it also protects your home against environmental effects such as rain, snow, sun, and pests. Peeling, blistering, wrinkling, mildew and cracks are some of the most common exterior paint problems.
Below are some descriptions of what causes common paint problems and how to prevent them. Most paint problems can be attributed to one of three things – low quality paint, incorrect or lack of preparation of painting surface, or painting in extreme weather conditions.
Although these problems are common, sometimes it's just old age and normal weathering that leaves your home unprotected. Regardless of the cause, let's get outside now and while the grill is heating up, take a walk around your home together and identify any trouble spots areas before your minor paint issue becomes a major one.
Blistering – Blistering is when bubbles form under the paint; it looks just like a blister under your skin. It is usually the sign of moisture in the underlying surface.
Possible Cause:
Painting a warm surface in direct sunlight causing condensation
Moisture escaping through the exterior walls
Rain or high humidity during or right after the painting project
Solution
If blisters go down to the wood there is good chance that it's too wet. Scrape the paint and let the wood dry and/or install a moisture barrier behind the siding.
If the blisters are on top of old paint. Then it's most likely condensation or high humidity or an improperly prepped surface. Remove them by scraping, then sanding; prime any bare wood and repaint with a quality exterior paint.
Cracking and Flaking – Cracking and flaking are easy to spot, but if left untreated will certainly lead to unwanted deteriorating of the underlying surface. Hairline cracks in the paint surface quickly grow into full on flakes and peel the paint finish off, exposing the siding below. Cracking is a serious paint flaw that needs immediate attention.
Possible Cause:
Over thinning the paint or spreading it too thin
Low quality paint that has inadequate flexibility
Old paint that is in need of replacement
Solution:
If the surrounding paint is holding tight, feather the edges, prime and paint
If the cracking is all the way down to the surface, then the paint should be removed
Old flaking paint may contain lead, so precautions must be taken. Most homes built prior to 1978 have the possibility of having lead paint so let us handle any repairs for you if you are unsure. Star Builders is certified to handle lead based paint removal. For more info on lead based paint, click here.
Mildew – We all know what mildew and mold look like. Black, gray, rust, or brown areas of fungus growth on the surface of paint or caulking. Mildew is not only an eyesore, it can cause health problems and will eventually lead to premature paint replacement and rot.
Possible Cause:
Forms in areas that tend to be damp and without sunlight
Using paint that does not have mildew resistance additives
Painting over a surface where the mildew has not been removed
Solution:
First test for mildew by applying a few drops of household bleach to the discolored area, then rinse; if it disappears it is probably mildew.
Remove all mildew from the surface by scrubbing with a diluted bleach solution (one part bleach, three parts water), wearing proper safety protection, including rubber gloves and eye protection and keep well ventilated from the bleach fumes and mildew spores. Rinse thoroughly and dry, sand lightly and prime bare surfaces and then paint with a quality mildew resistant paint.
Wrinkling – Wrinkling can be similar in appearance to blistering, but wrinkling is solid and does not push or peel through to the underlying layer like blisters do. It's got a rough, crinkled, orange peel appearance that happens when the paint forms a skin either by spreading too thick or drying too fast.
Possible Cause:
Paint applied too thickly
Painting on a very hot day or in bright sun
First coat not completely dry
Surface dirty or oily
Solutions:
Scrape or sand the surface to remove wrinkled paint, smooth the finish and repaint with properly thinned paint using consistent even strokes. Be sure the first coat is completely dry before applying the next. Pay attention to the heat and try to paint the sides of the house that are shaded from direct midday sun.
We hope you find these tips and techniques helpful. If you decide that a DIY paint job is a bit more than you want to undertake, we understand. Just give us a call at 503-409-1975. We've got two new vans fully equipped to handle all your home painting needs.
Request a Free Estimate
Our Five Star Pledge: Professionalism, Excellence, Commitment, Honesty, Respect